Introducing all-new bundles for Confinement mummies from Aw's Market. To go hand in hand with the confinement bundle, Aw's Market is also sharing Confinement Recipes that correspond to each bundle!
Make all the essential must-haves for confinement from this bundle. Regain your strength and recover well using clean and fresh ingredients. This bundle is good for about 4 meals for the recovering mommy. Also suitable for breast-feeding moms.

It is believed that confinement mommies need to revitalise their Qi after their delivery. With all the loss of blood and energy from giving birth, it is essential to recover all the nutrients properly to prevent accelerated ageing. In fact, it has been shown that mommies who eat right during this recovery period carry healthier babies the next time around, as compared to mommies who don't eat right during this recovery period.
Choose to nurse yourself, plus your new-born, to optimum health with Aw's Market's assortment of quality seafood, meat and poultry – delivered to your door with Aw's Market's fresh meat reputability.

Recipe ideas for this Essential Confinement bundle:



Salmon In a Bag
Ingredients:
1 Aw's Market Salmon Fillet
5 lemon slices
8 cherry tomatoes, pressed till bruised with back of fork
10g butter, in small chilled squares
1tbsp olive oil
salt and pepper to taste
You also need:
Parchment paper measuring 30 x 20 cm
Method:
1. Lay parchment paper on a work surface. Arrange 3 slices of lemon on one half of parchment paper, place fish on top of lemon. Arrange the remaining lemon, cherry tomatoes and butter evenly on top of the fish and drizzle with olive oil. Season with generous amount of salt and pepper.
2. Seal the salmon within the parchment by folding the paper over on all four sides.
3. Baked in a preheated oven of 200°C for 20 minutes.
4. Serve. When opening the parcel, be careful of hot steam coming out from it.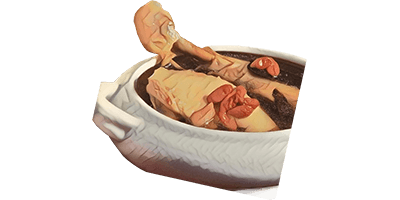 Ling Zhi Soup
Ingredients:
100g Aw's Market Pork Fillet
6g ling zi
4g dang shen
2 slices ginger
5 red dates
1000 ml water
1 tbsp wolfberries
Method:
1. Blanch pork in boiling water for 30 seconds. This will remove blood from the pork. Throw the scum water away.
2. Add in all ingredients into a double boiler. Add in water and bring to boil for 3-4 hours.
3. Serve hot.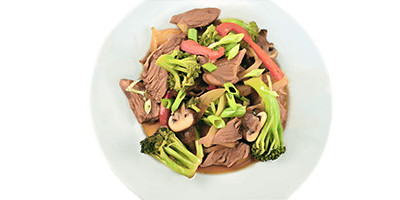 Beef Stir-Fry & Vegetables
Ingredients:
150g Aw's Market Grass-fed Beef Tenderloin
1tbsp cooking oil
3 cloves garlic minced
4 slices ginger, in thin strips
1tbsp yellow rice wine
1/2tsp light soy sauce
Marinade:
1tsp corn starch
1tsp sesame oil
1tsp oyster sauce
1/2tsp light soy sauce
1/2tsp fish sauce
2 dashes white pepper powder
Method:
1. In a bowl, add sliced beef with marinade ingredients. Marinade for up to 30 minutes in the fridge.
2. Bring a small pot of water with 1 tsp salt to a boil. Scald the broccoli in boiling water for 1 minute and quickly drain. Rinse under cold tap water to stop the cooking process.
3. Heat oil in wok then add in garlic and ginger. Fry until aromatic. Add marinated beef and fry until half cooked. Then add blanched broccoli, Chinese wine and light soy sauce. Stir fry briskly until the wine evaporates and everything is coated in the sauce.
4. Serve.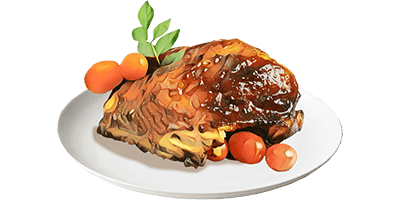 Honey Chicken
Ingredients:
Half of Aw's Market Anxin Chicken (S)
Fried Ginger Strips
Seasoning:
1tbsp honey
1tbsp light soy sauce
1tbsp sesame oil
1tbsp abalone sauce
Dash of pepper
Ginger - pounded & squeeze out juice
Shallots - pounded & squeeze out juice
Method:
1. Clean chicken and pat dry.
2. Marinade the chicken with seasoning ingredients for an hour in the fridge.
3. Arrange chicken on a baking tray, cook at 250°C for 15 minutes on one side and overturn, bake for another 15 minutes till golden brown.
4. Remove, brush with some diluted honey, sprinkle with fried ginger strips.
5. Serve
Tumeric Chicken Thigh
Rempah:
10g turmeric
10g galangal
10g old ginger
10g lemongrass
10 shallots
Ingredients:
2 Aw's Market Anxin Chicken Thigh
1 bowl sesame oil
½ bowl water
Seasoning:
Pinch of Sugar
2tbsp light soy sauce
2tbsp white rice wine
Method:
1. Heat sesame oil, fry rempah till fragrant, add in chicken thigh.
2. Add water, simmer over low heat till mixture is dry.
3. Lastly, add in seasoning and mix well.
4. Serve.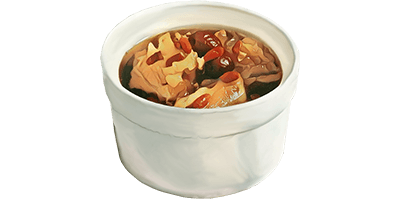 Chicken Thigh with White Fungus Soup
Ingredients:
2 Aw's Market Anxin Chicken Thigh
25g white fungus (soaked and expanded)
2 slices ginger
2 red dates
Pinch of salt
15g wolfberries
1000ml water
Method:
1. Blanch chicken thighs. Throw scum water away.
2. Add in all ingredients into a pot. Add in water and bring to boil at high heat. Turn to low heat and simmer for 2 hours.
3. Serve hot.
Stir-Fry French Bean with Meat
Ingredients:
100g Aw's Market Pork Fillet slices
200g French beans – cut 2 inches long
50g carrot – sliced
3 slices old ginger
3tbsp sesame oil
1tbsp light soy sauce
Pinch of mushroom powder
Seasoning:
½tsp light soy sauce
½tsp oyster sauce
Dash of yellow or white rice wine
Tiny pinch of white pepper powder
1tsp corn starch
½tbsp oil (add last to coat)
Method:
1. Marinate pork with all marinating ingredients except oil. Let the marinade stick to pork slices before coating it with some oil.
2. Heat up sesame oil, fry ginger till fragrant.
3. Add in pork slices, fry at high heat for a while.
4. Add in French bean, pour in seasoning. Coat evenly and stir fry until cooked.
5. Serve.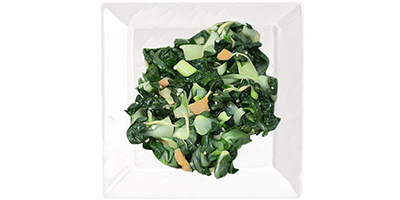 Stir-Fry Spinach with Garlic
Ingredients:
300g Chinese spinach – rinse sand out well and chop to quarter lengths (easier to chew)
2tbsp vegetable oil
4 cloves garlic – finely chopped
2tbsp water
½tsp chicken seasoning powder
½tsp salt
2tsp yellow rice wine
2tsp sesame oil
Method:
1. Fry ½ of the chopped garlic in oil until fragrant.
2. Remove garlic but leave the fragrant oil in pan. Keep fire on med-high heat.
3. Fry the rest of the garlic until fragrance permeates.
4. Add the spinach, chicken seasoning, salt. You can opt to dilute the pan with 1-2 tbsp of water to coat the vegetables more evenly.
5. Drizzle sesame oil and yellow rice wine around the perimeter of the vegetables. Give everything a quick toss and turn off the heat.
6. Serve and garnish with fried garlic.